GAMERA : LA COLLECTION COMPLETE EN BLU-RAY
3 juillet 2020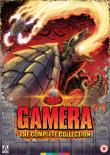 La Toho ayant connu un certain succès avec les premiers Godzilla, la maison de production Daiei tente le coup avec son propre monstre nommé GAMERA. Des années 60 jusqu'à aujourd'hui, la filmographie de la tortue géante compte douze films ! Ils étaient tous sortis en DVD dans nos contrées mais, a priori, il n'y a rien à l'horizon en France pour une éventuelle sortie en haute définition ! Toutefois, si vous êtes anglophone, les Anglais de Arrow Video proposeront le 17 août une grosse boîte contenant tous les films avec de nouveaux transferts en haute définition et des pistes audio japonaises et anglaises. Evidemment, il sera possible de visionner les films avec des sous-titrages anglais, ce qui sera certainement plus simple pour la plupart d'entre nous qui ne comprenons rien au japonais.
En complément de chacun des films, des commentaires audio, des interviews, des featurettes... Une orgie de destruction massive et de science-fiction qui nécessitera de débourser tout de même environ 130 euros en ce moment, en précommande, pour un prix avoisinant 180 euros au moment de la sortie.
Faites attention, le même éditeur sort la même édition aux Etats-Unis le 18 août mais il apparait plus logique d'opter pour l'édition anglaise de manière à découvrir ou redécouvrir : GAMMERA THE INVINCIBLE, LES MONSTRES ATTAQUENT, GAMERA VS GYAOS, GAMERA VS VIRAS , GAMERA VS. GUIRON , GAMERA VS. GIGER , GAMERA VS. ZIGRA, GAMEKA ET LES 3 SUPER WOMEN, GAMERA : THE GUARDIAN OF THE UNIVERSE, GAMERA 2 : ATTACK OF LEGION, GAMERA : REVENGE OF IRIS et GAMERA L'HEROIQUE.
On vous met la liste complète des spécificités et suppléments ci-dessous et, tout en bas, vous pouvez voir une bande-annonce pour chacun des films...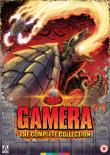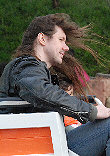 Ancien journaliste professionnel dans le domaine de la presse spécialisée où il a oeuvré durant plus de 15 ans sous le pseudonyme "Arioch", il est cofondateur de DeVilDead, site d'information monté en l'an 2000. Faute de temps, en 2014, il a été obligé de s'éloigner du site pour n'y collaborer, à présent, que de manière très sporadique. Et, incognito, il a signé de nombreuses chroniques sous le pseudonyme de
Antoine Rigaud
ici-même.
51 ans
9890 news
562 critiques Film & Vidéo
4 critiques Livres